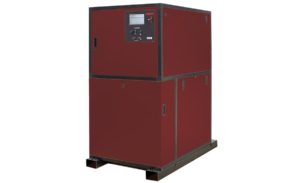 RBI is pleased to introduce the Torus water tube condensing boilers and water heaters designed to bring next level performance in a compact footprint. Offered in sizes ranging from 1250 – 4000 MBH, Torus Boilers are up to 97.5% and Water Heaters are up to 98% AHRI Certified efficient. Torus units feature a 5:1 turndown for outstanding performance and quality in a user-friendly design.
The unique 4-pass design stainless steel water tube heat exchanger works in concert with a multi-channel manifold and increased tube diameters resulting in ultra-high efficiency with very low pressure drop. An exclusive telescoping burner door system slides outwards offering full access to the combustion chamber for annual inspection and service.
Torus Incorporates industry-proven components making it the ideal solution for commercial installations. The Heatnet 3.0 integrated boiler control management system features a user friendly intuitive touch screen allowing for easy set up and valuable trending data. HeatNet 3.0 continually monitors system performance and modulates boiler firing rates to maximize turndown ratios and maintain peak efficiency.
Torus Equipment is low NOx and Category II and IV approved. Torus units can be vented with stainless steel and non-metallic vent options including PVC, CPVC and Polypropylene.